Our Process
Qubop's unique proposition is that we provide complete, end-to-end mobile product solutions.
Our services include mobile product discovery and specification; wireframing and mockups; high-fidelity graphic design; application programming and maintenance; app store submission and enterprise distribution. If desired, we can perform any of these functions individually.
Our process is fundamentally collaborative. We work with closely with clients to discover the particular needs of their industry and business, including extensive competitive analysis and background research.
Discovery
Qubop engagements start with a discovery process. Our clients come to us with business goals, napkin sketches or even detailed RFPs -- but in all cases, we begin by asking fundamental questions. Who are this product's target users? What are its primary use cases? Do other solutions exist in this space, or is this an act of pure innovation? What kind of mobile platform coverage makes sense, and what are the best mobile technologies to achieve that?
During this phase, the key outlines of the product emerge, including how it fits into the client's overall business strategy and core competencies.
Design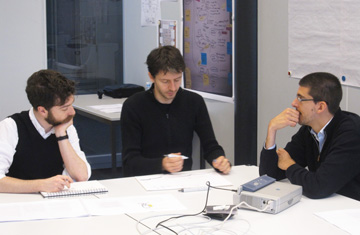 The design stage is more critical in mobile apps than in any previous software platform. Apps are used on small screens, in brief sessions, by users in highly distracting contexts. Navigation schemes must be simple and intuitive, and visual designs need to stand out in a world of a million apps. Users expect highly polished interfaces that respond immediately, and provide a good fit for their workflow or business process. For these reasons, good app design cannot be done piecemeal, but should be finalized before coding begins.
This phase includes a series of meetings to refine and agree on the app's final feature set, and typically leads up to our Four-Hour Meeting, an interactive design workshop. This in turn results in a set of detailed interface wireframes for client approval.
Finally, high-fidelity graphic designs are produced, to establish the ultimate look and feel of the app. This may also include multiple approval rounds, and requires consideration of the client's overall visual branding and market positioning.
Depending on complexity, the design phase typically lasts 2-4 weeks.
Development
Qubop features strong in-house development teams for both iOS and Android, and we have also shipped our own apps for both BlackBerry 10 and Windows Phone. We specialize in highly customized mobile interface designs, and we have the programming talent to carry them out. Because we have shipped apps on all platforms, clients can trust us to know that our designs are feasible and will perform well.
App development time will vary depending on the project, but we have turned around completed apps in as little as 3 months.
Our clients typically require native programming for each platform: Objective-C (iOS), Java (Android), C# (Windows Phone), C++ (BlackBerry). We also employ mobile HTML5, hybrid architectures, and cross-platform frameworks as appropriate.
Deployment and QA
If desired, our QA engineers can perform detailed testing for compatibility issues and bugs across the desired range of devices and platforms, or we can work with client-side QA teams. All issues are entered into our bug reporting system and tracked until resolved. Each report is reviewed by the development team, and code changes are applied.
Finally, if desired, we can guide you through the process of application submission and distribution.